Mr. Mambo's 12yrs Anniversary Bash is Going Down SAT APRIL 22, 2017 w/Mardi Gras Masquarade Theme at the Hollywood Ballroom!
Join us in Celebrating DC's Premier & Longest Running Salsa & Bachata Social Consistently serving the DC/MD/VA Latin Dance Community with the TOP Local Instructors, HOTTEST DJs, and the BEST Dancefloors for the past 12 years!
SATURDAY APRIL 22, 2017
HIGHLIGHTS:
★ Special Workshop & Performance by NYC's Jacob Lugo & Selena Tornez
★ Mardi Gras Theme, Dress Code Festive w/Masquerade Masks
★ (4) Salsa & Bachata Workshops w/Top Local Instructors
★ Show at 11:30pm- More Groups TBA
★ TWO Ballrooms – Salsa/Mambo y Bachata/Kizomba/Zouk
★ Dancing til 3am
WHERE: HOLLYWOOD BALLROOM DANCE CENTER, 2126 Industrial Parkway, Silver Spring, MD
GENERAL SCHEDULE
7PM – 9PM – Workshops by Top Local Instructors
9PM – 11:30PM -Dancing in Both Ballrooms
11:30PM- 12:00AM -Performances
12:00AM – 3AM -Dancing
OFFICIAL HOTEL FOR THE EVENT
Hilton Garden Inn- across the street
2200 Broadbirch Drive
Silver Spring, MD 20904
301-622-3333
CONFIRMED PERFORMERS
Jacob Lugo & Selena Tornez (NYC)
Nueva Ola
Dyanmix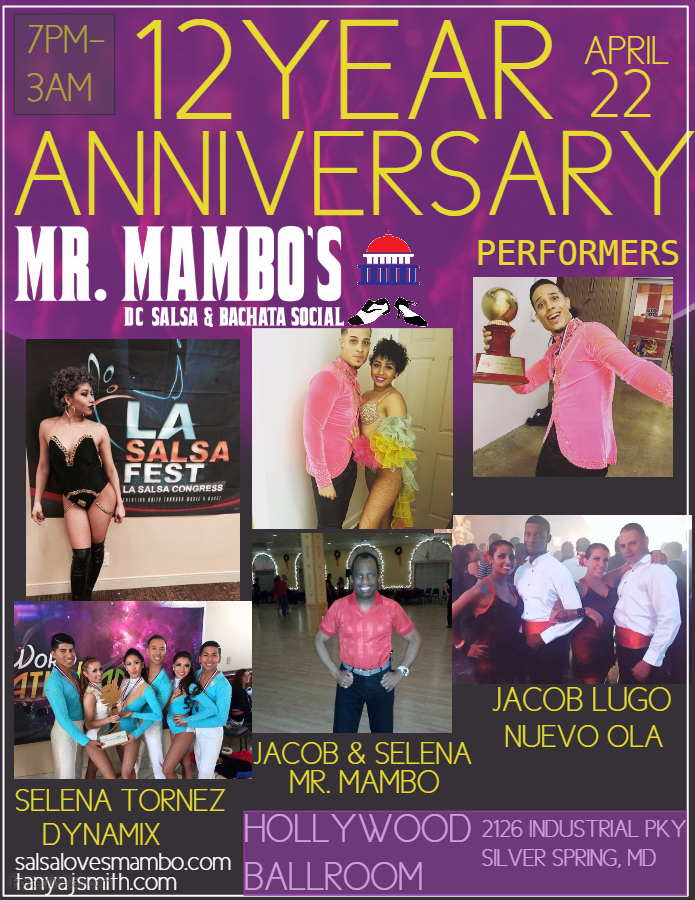 CONFIRMED INSTRUCTORS
Jacob Lugo & Serena Tornez- New York City
Psyon Gianni Scott- Washington, DC
Eric Jones-Santana- Frederick, MD
CONFIRMED DJS
DJ Vino
DJ Tico
DJ Gustoso
DJ Yulio
DJ Eric Jones Santana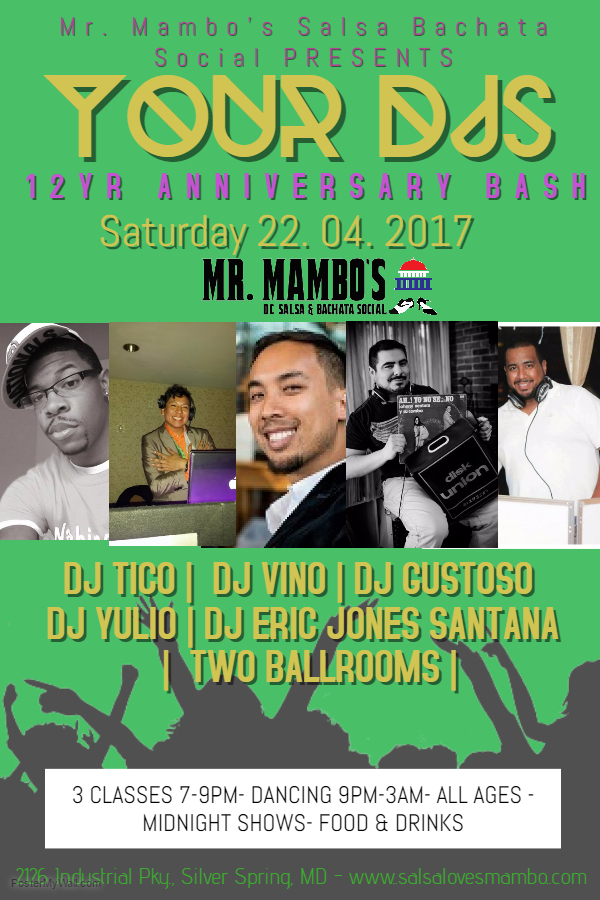 ADMISSION:
$23.00 for All Workshops/Party
$20.00 for Entrance to Party Only AFTER 10pm
$3 DISCOUNT IF YOU RSVP AT MR. MAMBO'S SALSA BACHATA MEETUP!!!
$15.00- Student Discounts w/VALID ID
WORKSHOP SCHEDULE:
7:00PM- 8:00PM: Bachata (ALL LEVELS) w/Eric Jones Santana
8:00PM-9:00PM: Beginner Salsa ON1 (BEG INTERMEDIATE) w/Tommy Smith
8:00PM-9:00PM:Salsa ON1 Footwork & TurnPatterns (BEG INTERMEDIATE) w/PsyonGianni Scott
8:00PM-9:00PM: Salsa ON2 Footwork &TurnPatterns (BEG INTERMEDIATE) w/Jacob Lugo & Selena Tornez
FOR MORE INFO:
http://www.salsalovesmambo.com/
http://www.meetup.com/Mr-Mambo-Salsa-Bachata/
http://www.tanyajsmith.com/
Join Mr. Mambo's Salsa Social Group on Facebook
HISTORY OF MR. MAMBO'S SALSA SOCIAL W/THE BACHATA INVASION
Mr. Mambo's Salsa Social Started Sat, Jan 29, 2005, the brain child of Tommy Smith aka Mr. Mambo conceived of as a Practice Party for his regular Salsa Students at the DC Dance Collective. Mr. Mambo was the DJ and the Performers on that Cold, Snowy Inaugural Night were Orlando Machuco Jr and his partner, Elizabeth Deza. Even though it snowed hard that night with upwards of 5 inches accumulated on the ground, Mr. Mambo's had a crowd of almost 50 people and we were Ecstatic. The Social was structured initially for once a month. For the first 3 years, the DJ rotation would include Tommy Smith, Tanya J. Smith (who got a bad review from DC Salsa Meetup as playing too much Mambo, Go Figure), DJ Jon Trevino now known as DJ Vino, DJ Silenzio, & DJ Edgar now known as the Elite Rumbero. The Snack Bar included Hot Home-Cooked Food by the Twins, Pauline and Paulette. Although Mr. Mambo's started out with the mission of being a Salsa Practice Party for Tommy Smith's Students, none of his students came. Instead, a small, steady, loyal group of People from the DC Salsa Community were regulars.
In Nov 2007, Earl Rush aka Go Go Earl of Stuck on Salsa Fame approached Tommy Smith about doing a Partnership with Mr. Mambo's to enhance Mr. Mambo's Salsa Social's profile in the Salsa Community at Large. The First Venture from that collaboration was the Birthday Party of Tanya J. Smith and it was a smashing success. Now, many of the Hard-Core Dancers from the DC Salsa Community became Regulars. Other changes that occurred from the Earl and Tommy Collabo were increasing the Social to twice a month on a Set schedule- Every 2nd and 4th Sat of the month- and the use of 2 Rotating DJs Upstairs. The Rotating DJs took it upon themselves to play music beyond the regular commercial fare found at the average Salsa Venue and exposed the Dancers to New (actually Old) music that wasn't played often. At that time, the Regular Rotating DJ Roster included DJ Neo, DJ Vino, DJ EricB, DJ Bruno, DJ Renzo, DJ Steve Martin, & DJ Dola. This Delighted the Dancers exponentially and the Music Bar was raised substantially in the DC/MD VA area! As a result of these changes, The Partnership of Earl and Tommy doubled the regular attendance of Mr. Mambo's to almost 100 people and increased the reputation of Mr. Mambo's outside of the DC Metro Area. Tommy Smith enlisted the regular services of a once unknown New Dancer in town, James Yoon aka General Yoon in May 2008 and this further upped the Ante of the Mr. Mambo's Salsa Social as a High Quality Social where you could get Good, Challenging Training, Great Music, and Good Dances on the Regular. Mr. Mambo's was becoming a Salsa Force to be reckoned with in the DC Salsa Scene.
Tommy Smith and Earl Rush ended their partnership amicably and Tanya J. Smith took over the role of Promoter and Creative Events Director for the Mr. Mambo's Social April 2010. Tanya received daily insight and tutelage from Earl Rush during his tenure at Mr. Mambo's so she was able to seamlessly pick up the ball and run with it by first, highlighting the Dancing and the Music at Mr. Mambo's with 24/7 Video Coverage at the Socials. She began to Promote constantly on Social Media, following the lead of her former mentor Earl Rush. With the help of Jon Trevino and the counsel of Tommy Smith, Tanya started to put together Special Events and Workshops at Mr. Mambo's to highlight exciting new & rising Performers/DJs/Dance Styles which included Magna Gopal, Bio Ritmo Band, Norbetto Betto Herrera, Julissa Cruz, Psyon Giannii Scott, DJ Antonio La Conga, Joel Dominguez & Maria Palmeiri, Giovanni Roggiero, DJ Efrain Flores, Carlos Cardo, DJ Asho, Marc Brewer & Sarah Zuccaro, Antonio Doza Williams & Elleanee Jimmenz, Markus Smith & Trendlyon Veal, DJ Tico, DJ Hercules, Eric Jones-Santana and many more. Also during this time period, The 2nd Floor was opened up for dancing initially to incorporate the Bachata/Timba/Salsa Romantica Crowd in 2011 with the Help of DJ Oscar BA. Then in Feb 2012, Mr. Mambo's decided to make the 2nd Ballroom primarily a Bachata Haven since Bachata had woven its way firmly into the Salsa Landscape. Yulio Jeisson Guitterez aka El Chalan de La Bachata was the First Host of the Now Popular Mr. Mambo's Bachata Invasion to overwhelming success.
April 23, 2013, Mr. Mambo's Celebrated our 8YR Anniversary at the Hollywood Ballroom to an astonishing success- almost 500 people attended from up and down the East Coast! Coincidentally, the DC Dance Collective, our home for 8yrs was soon to be sold and under new management that wasn't as favorable to our social as it had been in years past. We made the move to Hollywood Ballroom in June 2013 and haven't looked back!
Today, Mr. Mambo's Salsa Bachata Social is operates in MD and VA held Every 1st, 2nd, and 4th Saturday of the month at The Hollywood Ballroom and The Crown Dance Studio. Mr. Mambo's regularly gets 200+ Dancers of all Levels and draws from 5 Latin Dance Disciplines- Salsa ON1 & ON2/Bachata/Kizomba/Timba/Zouk from the DC/MD/VA Area and from across the country. We are looking forward to Doing Bigger and Better Events for the Salsa Latin Community. With this Event, we extend a WARM THANK YOU TO EVERYONE who has helped us and/or supported us along the way!