Mr. Mambo's Salsa Bachata Social is BACK AT CROWN DANCE STUDIO in Fairfax, VA Every 1st Saturday of The Month (with some exceptions noted below in our Summer Schedule).
SATURDAY AUG 5, 2017
Mr. Mambo's Salsa & Bachata Social in VA
HIGHLIGHTS:
★ JUST ADDED- Solo Performance by Texas Dance Diva Blanca Flores
★ (4) Salsa & Bachata Workshops w/The BEST DC AREA Instructors
★ TWO Ballrooms – Salsa/Mambo y Bachata/Kizomba/Zouk
★ (2) DJs in TWO Ballrooms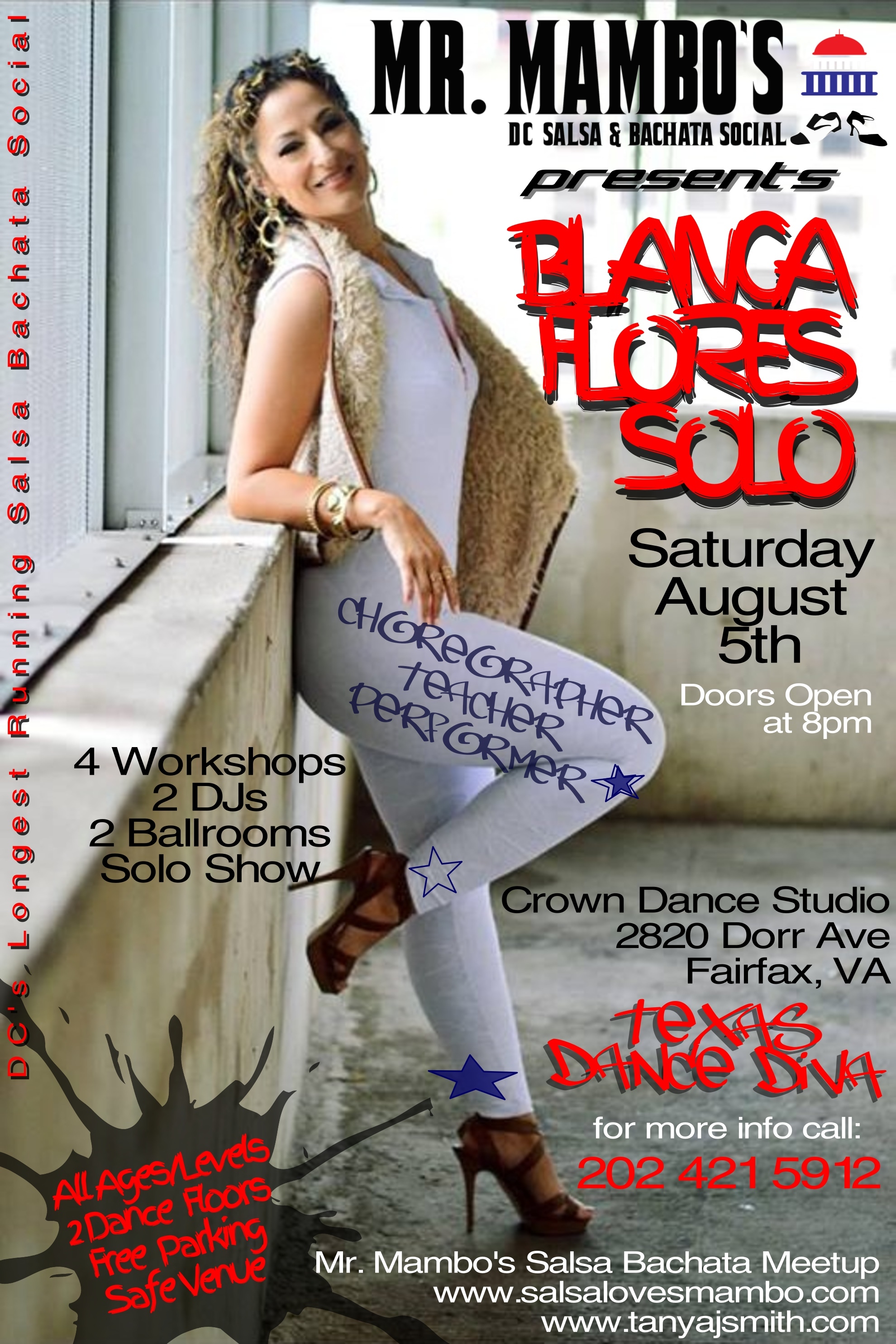 WHERE: CROWN DANCE STUDIO, 2820 Dorr Ave., Fairfax, VA
GENERAL SCHEDULE:
8:00pm -10:00pm – Workshops in Main Ballroom
10:00pm- 2:00am – Open Dancing in 2 Ballrooms
Midnight- Solo Performance by Blanca Flores
ADMISSION:
$18.00 for All Workshops/Party
$15.00 for Entrance to Party Only AFTER 10pm
$3 DISCOUNT ONLY IF YOU RSVP AT MR. MAMBO'S SALSA BACHATA MEETUP!!!
YOU MUST PRINT OUT RSVP & BRING TO THE DOOR OR SHOW RSVP ON YOUR CELL!
http://www.meetup.com/Mr-Mambo-Salsa-Bachata/
************DJ HERCULES & DJ GUSTOSO******************
TWO DANCEFLOORS- TWO DIFFERENT FLAVAS:
MAIN BALLROOM (Purely Salsa) – Salsa/Mambo/ChaCha w/a Dash of Bachata
BALLROOM B (Bachata Mix) – Mainly Bachata/Kizomba/Zouk
WORKSHOP SCHEDULE:
8:00PM- 9:00PM: Bachata (ALL LEVELS) w/Aldo Ortega
9:00PM-10:00PM: Beginner Salsa ON1 (BEG INTERMEDIATE) w/Tommy Smith
9:00PM-10:00PM:Salsa ON1 Footwork & TurnPatterns (BEG INTERMEDIATE) w/Julissa Cruz
9:00PM-10:00PM: Salsa ON2 TurnPatterns (BEG INTERMEDIATE) w/Edwin Alvarez
FOR MORE INFO:
http://www.salsalovesmambo.com/
http://www.meetup.com/Mr-Mambo-Salsa-Bachata/
http://www.tanyajsmith.com/
Join Mr. Mambo's Salsa Social Group on Facebook
MR. MAMBO'S SUMMER SCHEDULE:
Sat July 22- MD CANCELLED by venue due to Private Event
Sat Aug 5- VA Crown Dance Studio
Sat Aug 12- MD Hollywood Ballroom
Sat Aug 26- MD CANCELLED in Support of the DC Bachata Congress
Sat Sept 2- Mr. Mambo's MOVED to The Interfusion Festival at the Westin Alexandria Hotel
Thank you for your continued support!