DC's CAPITAL CONGRESS – JUNE 16-20th Featuring 3 Ballrooms for Salsa, Bachata, Kizomba along with workshops during the day from The Best Instructors of those genres from around the WORLD!
Make Sure You Get Your Discounted Passes NOW with Mr. Mambo's Promo Code- MRMAMBO for the DC Capital Congress Going Down THIS WEEKEND JUNE 16-20, 2016!
http://www.capitalcongress.com/site/get-tickets-today/
4 Days of Non-Stop Salsa, Bachata, and Kizomba! Workshops, Master Classes, Bootcamps, Performances, and Parties! Get ready to dance, learn, party, and appreciate Latin Music in the DMV!
Workshop Schedule:
http://www.capitalcongress.com/site/workshop-schedule/ 
Performance Schedule:
http://www.capitalcongress.com/site/performers/
The 12th Annual Capital Congress, at the Westin Alexandria. 
June 16-20, 2016 
Featuring Live Music from: 
Frankie Morales 
David Gonzalez Jr. "El Principe del Timbal" 
Herbie Martinez Orquestra
International Artists: 
Terry & Cecile- Paris, France
Universal Mambo – Orlando, FL
Caribbean Soul Dancers – New Jersey
MamboRio – Rio de Janeiro, Brazil
Mambo Dinamico – North Carolina
Unique Dance Team – Orlando, FL
Ana Paula – Brazil
Shaka Brown – Miami/DC
Art in Motion – Philadelphia, PA
Son y Pasos – San Diego, CA
Latin Vintage – Richmond, VA
Urban Vibe – Chicago, IL
Ferocity Dance Studio – Virginia
DC Style Salsa Academy – DC
ClaveKazi Studio – DC
Salsa Underground – DC
Capital Congress Theme Parties Each Night!
Four days. Four theme nights.  Get your outfits ready to party with us! Themes are not a requirement. 
Thursday – Brazilian Night!
For the first time ever, the Olympic games will be held in Brazil! As Brazil plans to kick off the games, we are going to kick off the Capital Congress with a Brazilian theme! We have Brazilian games, practice your Portuguese, and be ready to party with our Brazilian dance instructors! The colors are green, blue and yellow!
Friday – Back to School!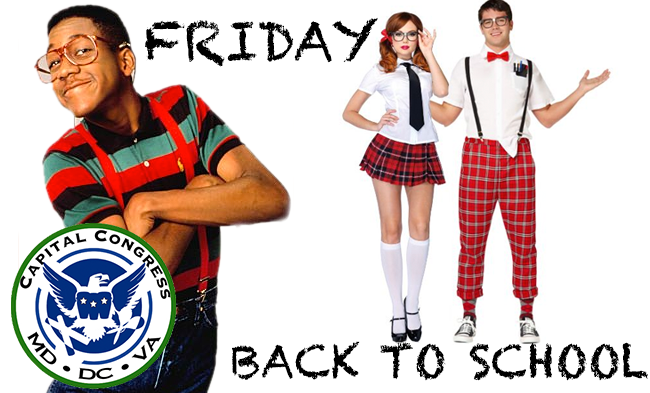 It's time to go back to school!  This time, you can relive the fun, and ignore the books! Get your school gear in order. Are you the Big Man On Campus? Or maybe the librarian? You want to represent nerd power? Or do jocks and cheerleaders rule? Can you be a prep? Or maybe you're an outcast? Everyone is welcome, and we are going to party together.
Saturday – 007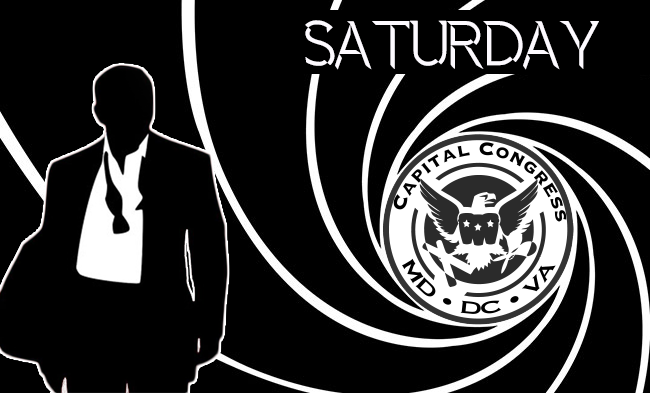 Who's your favorite Bond? No matter the man behind the name, there has always been one thing that didn't vary – Bond always dresses the part. This is the night to impress. Think pocket squares. Think a well-cut suit. Think a sexy dress. Think of what you'd want to be wearing as you step out of an Aston Martin. Now you got the idea.
Sunday – Neon Night!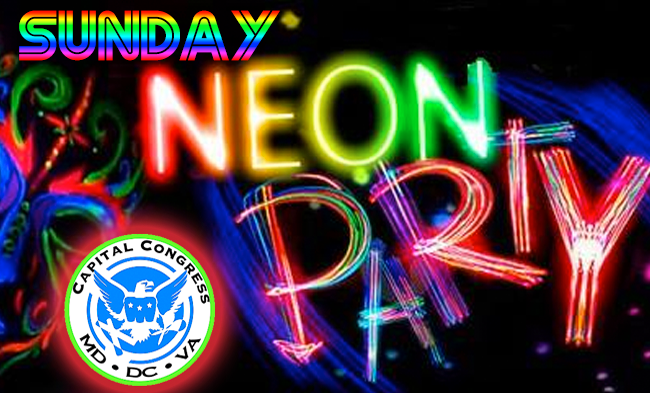 If it aint bright it aint right! Sunday is the night to light it up in neon! You may want your sunglasses, because we are going to be glowing
3 Rooms of Dancing to World Renowned DJs 
DJ Renzo – Tampa, FL
DJ Steve Martin – DC
DJ Neo – DC
DJ Emerzive – DC
DJ Mambo Castillo – San Diego, CA
DJ Dola – DC
DJ Watusi – NY
DJ Selo – DC
DJ BigBoy Bachata – Philly
DJ Yulio – DC