DC's Mr. Mambo's & Baltimore's SalsaNow Team up for a BLOWOUT Halloween Salsa Bachata Kizomba Dance Party & Costume Contest at the FABULOUS Laurel Race Track Facility!
SALSABACHAWEEN BASH & COSTUME DANCE PARTY
SATURDAY, OCTOBER 29, 2016
✮Halloween Costume Dance Party- Come Dressed in your Craziest, Scariest, Sexiest, Most Outrageous Costume!
✮Costume Contest- with $400 in Cash & Prizes!!!
✮ (3) Salsa & Bachata Workshops w/The BEST AREA Instructors!
✮TWO Ballrooms – Salsa/Mambo & Bachata/Kizomba.
✮(3) of the TOP DJs in the DMV
✮Fully stocked bar for all your beverages. Cash or credit accepted.
WHERE: LAUREL RACE TRACK, 198 Laurel Race Track Rd, Laurel, MD 20724, 3rd level Dining Terrace. Wood flooring, air conditioned, with lots of seats for resting.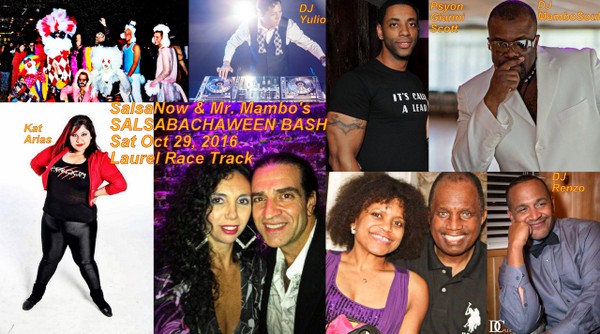 GENERAL SCHEDULE:
8:00pm -10:00pm – Workshops
10:00pm- 2:00am – Open Dancing
11:45pm- Costume Contest for Cash & Prizes
ADMISSION:
EarlyBird/Online Sales Before 10/29/2016
https://www.eventbrite.com/e/mr-mambos-salsanow-salsabachaween-party-and-costume-bash-halloween-dance-salsa-mambo-bachata-kizomba-tickets-28745872679
$15.00 for Workshops & Party
$12.00 for Party after 10pm
At The Door
$18.00 for All Workshops & Party
$15.00 for Entrance to Party Only AFTER 10pm
$3 DISCOUNT (EARLYBIRD PRICING) IF YOU RSVP AT SALSANOW & FRIENDS MEETUP, BALTIMORE SALSA & BACHATA MEETUP, SOCIAL DANCE MEETUP GROUP OF CENTRAL MARYLAND, OR MR. MAMBO'S SALSA BACHATA MEETUP!!!
Please Note that you must Print out Meetup RSVP & Show at the Door or Show RSVP on your Cell!
Salsa/Mambo Dance Floor
DJ MAMBO SOUL
DJ RENZO
Bachata/Kizomba Dance Floor
DJ YULIO
WORKSHOP SCHEDULE:
8:00PM- 9:00PM: Bachata (ALL LEVELS) Instructor Kat Arias, Ferocity Dance
9:00PM-10:00PM: Salsa ON1 TurnPatterns (BEG INTERMEDIATE) w/Niss Albaig
9:00PM-10:00PM: Salsa ON2 TurnPatterns (BEG INTERMEDIATE) w/Psyon Gianni Scott
FOR MORE INFO:
http://www.SalsaNow.net/
http://www.meetup.com/Mr-Mambo-Salsa-Bachata/
http://www.salsalovesmambo.com/
http://www.tanyajsmith.com/