Empire- the Hip Hop & Scarface Glee.  Yes, its stereotypical.  And sure, claims of it being over the top & melodramatic as any shameless soap opera are not far off the mark.  But I LOVE IT.  I have NO patience for the PC Police haranguing about why Blacks can't have more uplifting stories because sometimes I want my TV food to be as sugary as a good engaging story that has all of the messy emotions of life.  I'm here for this  screaming Black Telenova.  There are melt downs, beatings, killings, backstabbing, & constant angling for advantage- all loving traits of a true family connected by blood but bound together by money.  Best part, for all of the cheesy plot lines with antiquated story about the music business, it is staffed with talented actors who can add some credibility and likability to thin character development. Bottomline, if you can stomach reality TV shows (I will admit to watching 1 or 4 a week with the appropriate shame & guilt), you can certainly watch this nostalgic Family Power Grab Story of Rags to Riches via The Music Industry.
The central premise of this serial is that all of the forces are conspiring to take a piece of the money train that aptly named main character Lucious (Terrence Howard) built off of the illegal gains and ultimate sacrifice of his gangster moll wife Cookie (Taraji P. Henson) made to launch his now successful music empire.  With the private hidden knowledge of his impending loss of health and resulting demise from ALS, Lucious is in the King Making phase of taking the company public and picking a successor to carry the company forward & cement his legacy long after his death.  In the running for succession are his 3 sons of variable abilities and questionable heart and iron will to lead.  A dark horse in the running interrupts an orderly succession when Cookie is released from Jail early after a 17 year bid in the pen taking the fall and all responsibility for a drug deal gone wrong that she was while her husband Lucious waited in the car (ain't that a biotch).  Betrayal, plotting family shedding of blood, emotional manipulation, out of control egos, all collide in this family pot ready to boil over in greed.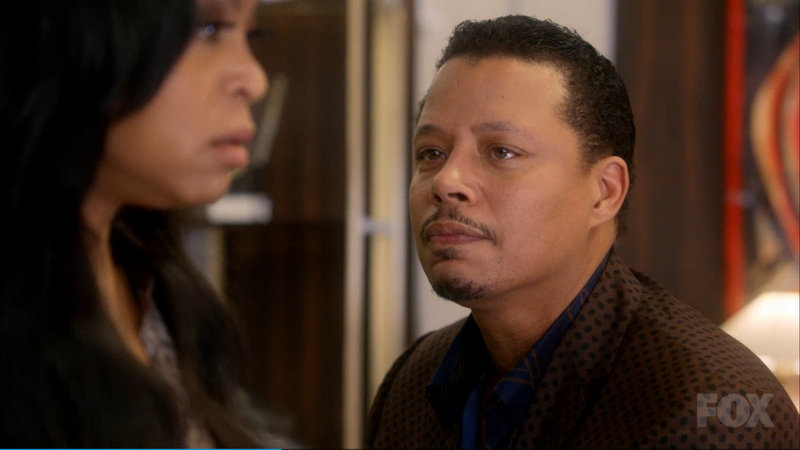 Terrence Howard and Taraji P. Henson both have meaty roles and extract every ounce of blood from those roles as if their careers depended on it.  Terrence utilizes that signature shakey voice and cadence along with the implied swagger of lightskin privilege to silky deadly effect.  Taraji can barely contain the fire and rage in her character stemming from one who has done a long prison bid but instead of being rewarded for loyalty was erased and forgotten from a family and from the fruits of her money that launched the empire.  Outside of Lucious and Cookie who are drawn larger than life, many of the characters are thinly fleshed out, although enough signifying cues are available to delve into motivations driving the greed, passions, and motivations.  Hakeem is the light of his father's eye as the Hip Hop masculine obvious choice for heir to be but who might not be the one with the most talent to realistically climb to the top of the charts.  Jamal is the "Sissy" Gay child with the most talent in the family who has grown to accept his sexuality even in the face of his Father's ire and shame.  Andre is the son who is living the American Dream with his education credentials, his white trophy girlfriend, and his proper speech and business like manner although judged by the Lucious as not having the necessary street smarts to hold the reins of the company.  Some interesting faces thrown in the mix for maybe sensationalist stunt casting are Malik Yoba (Hey Stranger from New York Undercover) in Investment Banker Drag and Gaborey Sidibe in a garrish white blond page boy wig acting as stereotypical rambunctious secretary in everybody's business.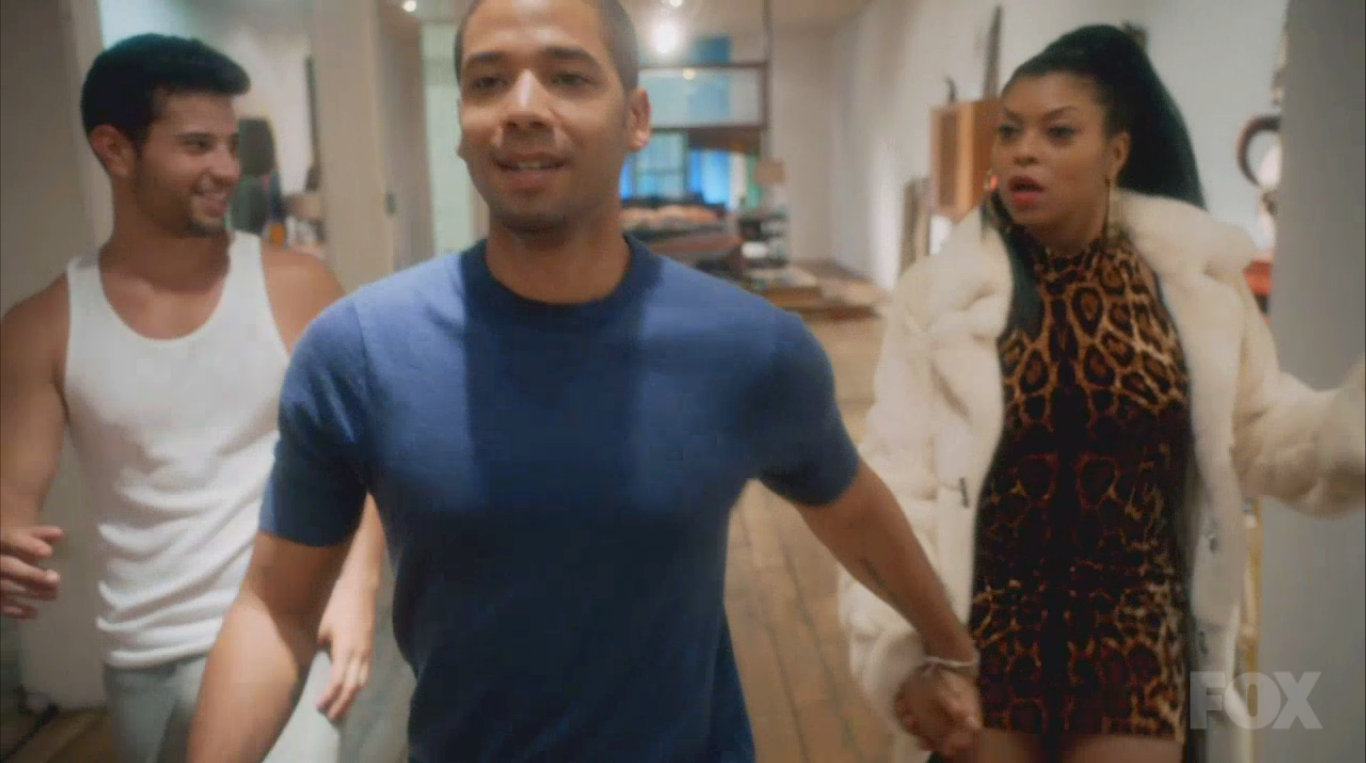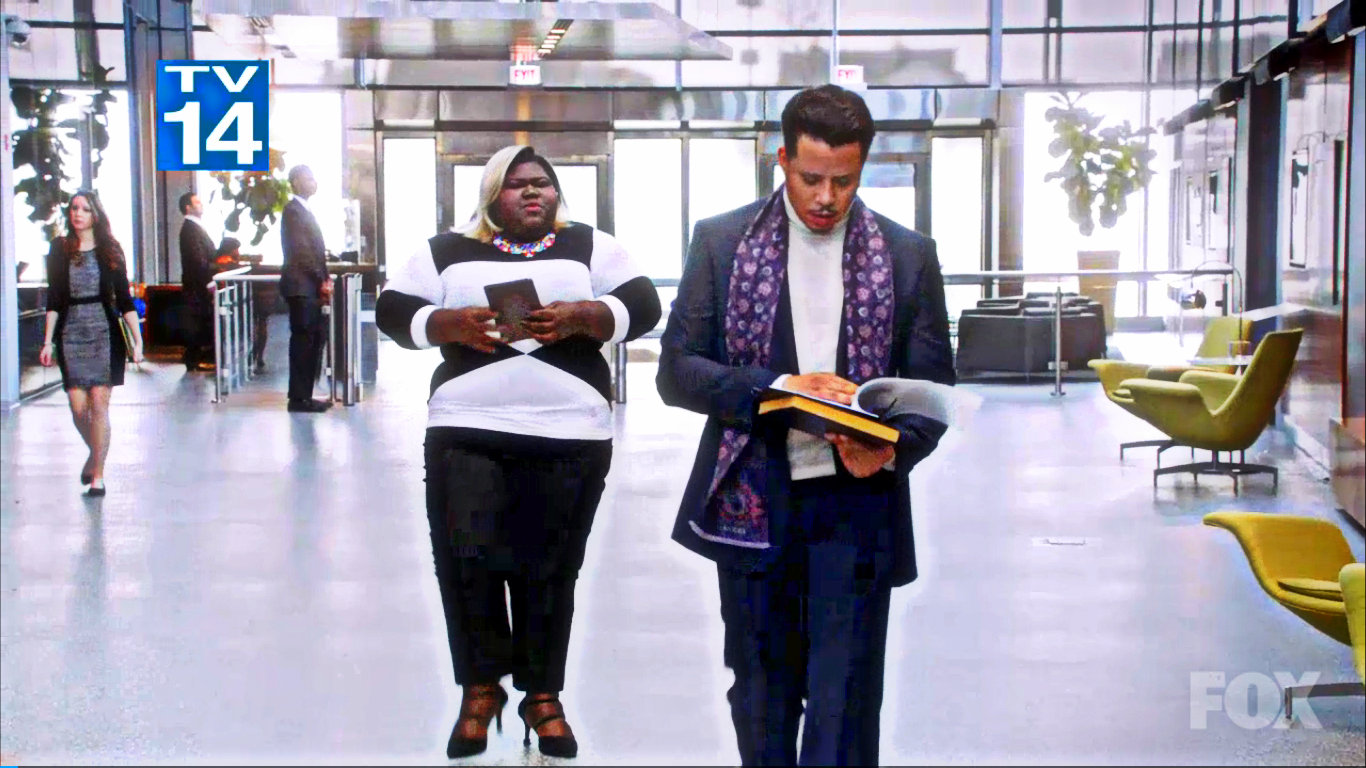 But the obvious star of  character development are the clothing selections picked for Cookie.  She is Glorious, She is Glamorous (if you are using the 70s/80s as a reference), She is Vintage, She is BADASS!  Leaving Jail, she is dressed in a White Fur (likely not fake fur) and leopard skin dress looking like a Boss Pimp Madam from the go go 80s or a Dragqueen raring to kick some ass, take your pick.  Next Outfit  change has Taraji morphing into Boss Bitch Pimp Madam from the late 90s.  Each successive Taraji outfit is giving me teas of a modern day Pam Grier from the cheesiest (read as BEST) Black Exploitation 70s Movies.  Same game face.  I'm buying it.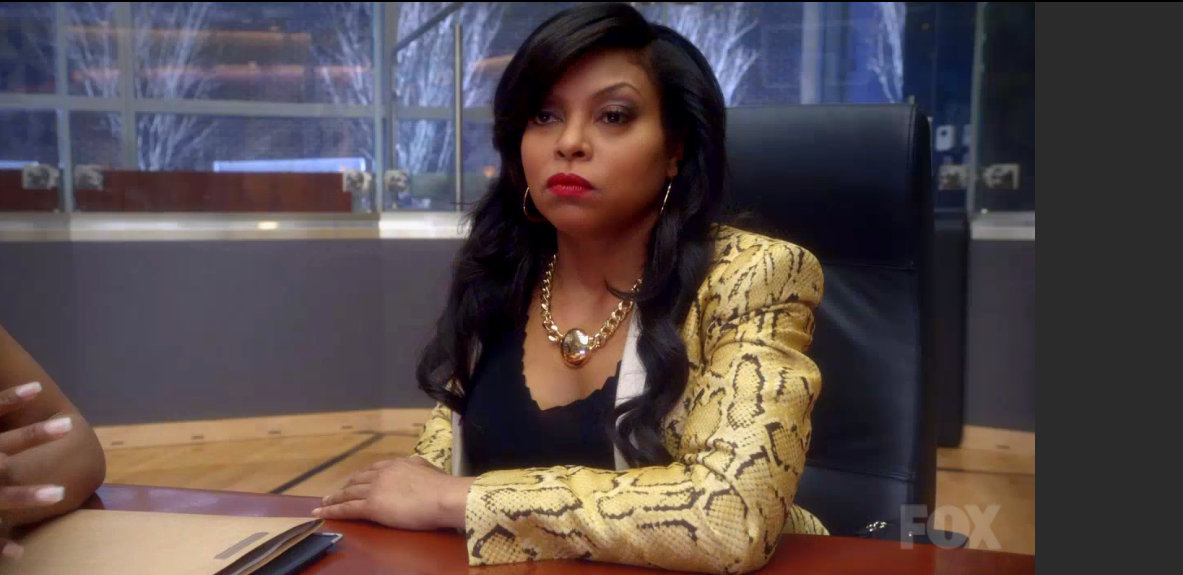 Two of the most disturbing and provocative scenes involved beatings and abuse that today would not be seen as appropriate corporeal punishment but instead as grounds for immediate jail time for the parents.   One involved Cookie initiating a fierce beating of disrespectful son Hakeem with a broom like he was her bottom bitch led astray- touching show of love and devotion to wayward child.  The other abusive beating scenario involved Lucious violently stuffing his soon to be Gay Queen son Jamal  in the trashcan for daring to display his tendencies in front of family and friends embarrassing his gangster masculine cool to all hell and back.  Deep visceral scenes played for maximum shock entertainment value.
And all this just the first episode!  Can't wait to see how all of this shakes every Wednesdays at 9pm on FOX.