Mi Esposo, who is a not a dancer per se nor share's my fine appreciation for Salsa music (Cumbia & Boleros are his strong preferences), accompanied me Saturday night to the DC Bachata Congress 2016 at The Renaissance Hotel. His 1st Congress experience started with a nap in our hotel room highly recommended by me because I knew he needed to be energized for staying up late in a unfamiliar environment surrounded by Latin Dance Nuts who really only want to dance with you- not socialize (An obvious projection of my own sentiments when I am at a Salsa Congress in normal militant dancer mode).
As we were getting dressed, I realized that I carefully packed everything he and I would need to get us through the night including mucho beer, a case of water bottles, extra batteries and memory cards for my camera, makeup, perfume, 4 pairs of dance shoes- EVERYTHING you can think of EXCEPT my Freaking Nice Dress specifically picked out in color tandem with Duque's outfit in anticipation of us taking alot of pictures together?! Although we live close by, we had secured a great FREE parking space a block away from the hotel and wasn't about to relinquish it. Now my alternative outfit for a SATURDAY NIGHT AT A CONGRESS boiled down to ripped & destroyed saggy jeans I had on earlier OR my lounge saggy diaper bottom pajama shorts made of fleece and a vest. Duque decided that diaper pajama shorts it is and he jumped into action doing a quick sew/safety pin job on them to shore them up so I wouldn't look like a complete Hobo.
Suffice it to say, we spent copious amounts of time in the Salsa Ballroom for MY ENJOYMENT and to tend to my journalistic tendencies while Duque sat in attendance observing and being my faithful and patient handmaiden by keeping track of my camera and flash for when a good dance was spied upon the dance floor just WAITING for me to document OR when I heard a song I wanted to dance to followed by spotting an available dancer who I wanted to etch on my dance card for the night. Duque didn't want to dance so he spent alot of time observing the scene and the dancefloor with me when unattended by my dance ambitions or video taping duties. He had strong opinions on WHOM I should tape when there was a choice between couples to document and I found his selections of dancers to be insightful when I asked WHY this couple and NOT that couple.  Subsequently, I acted on his suggestions. He was particularly impressed & floored witnessing the dance between Ronald Rios & David Cuevas on the carpet. He was AMAZED at their high level of dance in Lead AND Follow roles and he was fascinated by their huge ENJOYMENT and joy of the dance so obviously evident. Duque was a bit annoyed that I wasn't available to heed his sage advice and capture THAT dance on video not understanding that I TOO was having my OWN joyful moment on the dancefloor with Fuquan Ferrell at the time, thank you very much.
Duque was already acquainted with Brandon Carretero from prior meetings and consequently has developed an affinity for him but when I was getting ready to tape Brandon with one particular partner, Duque said No, don't tape them. When I inquired why, he said while Brandon is a very nice dancer, his partner at the time  was making him look bad, shaking his head NO vociferously.   I gulped, clutched my pearls,  and said ALRIGHTY THEN and did not tape that dance. Later, I asked his opinion about taping Brandon with another partner and when he viewed the dance for about 30 seconds, he gave his approval and said THAT girl was good enough for Brandon.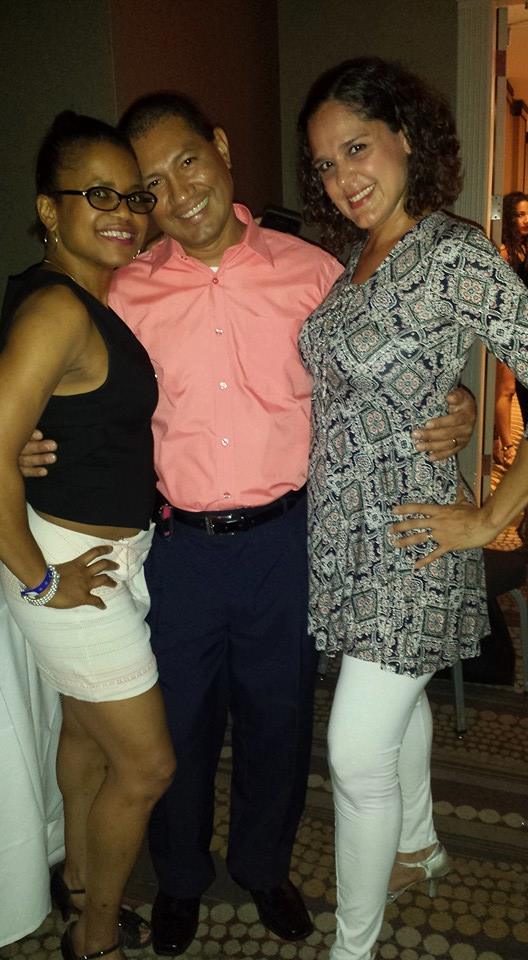 We also spent way more time in the Bachata Ballroom then I would have deemed necessary had Duque not been with me but I went with his flow since I know that he is way more comfortable digesting bachata music than salsa for his listening pleasure. While present, I wanted to tape some of entertaining dances I witnessed but their world seems to thrive in dark corners and moist spaces and instinctively, I felt that my alien light would just upset the delicate balance of that microcosm. Best to just watch, soak it in, and leave THOSE dancers alone to their own devices
We did a quick drive by in the Zouk and Kixomba Rooms but Duque was not impressed. However, interestingly enough, I was and thought to myself, I might need to learn the basics of those dances pretty soon before they rear up and roar like Bachata did and become dominant one of these days.
The entire night, Duque was in awe and amazed but not compelled to dance at all in either the Salsa or Bachata ballroom mostly out of intimidation of what he perceived as a high skill level of dance all around him. A Congress environment is indeed a high pressure dance environment so I didn't force the issue.  Also, he still hadn't gained a new found appreciation for either music forms, when asked after our night ended. However, he was intrigued enough to say, "Maybe, just maybe, I might need to learn how to dance Salsa." Indeed, papi, indeed. Baby Steps. Maybe Duque is now ready for a European Congress like Warsaw…..
Duque's final  assessment of his first congress? He was intrigued, had fun watching the pretty people dancing all night, loved the decor of the hotel, was delighted by the large numbers of native Spanish speakers walking about, and was felt sufficiently challenged by the skillset of the dancers he observed to maybe WANT to consider taking a class or two to learn. Progress.
As for me, although my time during this ALL NIGHT event was limited in the ballrooms to accommodate mi Duque, I found the music to be highly enjoyable and I got some really good dances. I will be back SOLO Sunday night to finish out the congress properly- ON THE DANCE FLOOR.
Duque sleeping like a baby after his 1st Congress Experience- Priceless